HP Rental and Leasing through On Queue Computer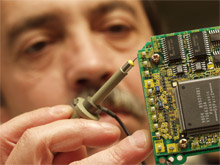 Technology rentals such as HP Servers, NAS, SAN, Mass Storage, Networking Equipment can be beneficial in a variety of short-term business situations, such as disaster recovery, business continuity and data center moves, software testing, and capacity on demand needs. On Queue computer can integrate and deliver specific server and storage rental solutions, installation services, logistics services and 24 x 7 maintenance coverage. On Queue computer solutions are cost-effective alternative to purchasing equipment for short-term projects.
We load operating systems and software to your needs and test the equipment to assure a high quality Instant on System and hassle-free operation. On Queue is one of the Nation's most experienced IT Computer Server and Storage Rental Companies and knows what it takes to support your needs. Should you experience any difficulties, technical support is available by phone 7 days a week, 24 hours a day and onsite service response time averages four hours, and is guaranteed within 8 hours. And, our guaranteed replacement service assures that downtime is minimized!
We also Offer Flex rental to short term lease adjustments to allow for Flexible situational and financial solutions. A portion of your term payments will go towards the purchase of your technology solution should you need to purchase it.
Call (978) 499-0049 or email us today for pricing or submit a quote about your rental or leasing needs.