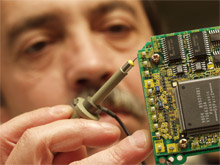 We at On Queue Computer provide the highest quality legacy workstations, servers, mass storage, components and accessories by HP, Sun, IBM and Dell. For over 29 years On Queue Computer has been supporting our customers with older equipment that is no longer supported by the original OEM.. We specialize in workstations, servers and peripherals and it is our unequaled knowledge of these older platforms that is appealing to our customers. We have historical data on common component failures as well as legacy firmware and updates for virtually any legacy system you may be working with. Whatever type of system you need to support On Queue Computer's customer centric approach allows for an unprecedented customer service.
We accomplish this by using highly trained service staff that are familiar with the platforms hardware configuration and operating system platform both pre and post sales support.
On Queue Computer, Inc. is operated by technical experts. Every person on our technical team is experienced with these legacy technologies. We use a variety of statistical tools to eliminate defects and control variability. This process guarantees the highest level of quality in every product we provide.
We adhere to strict process standards demanded by our customers. We have earned the Certificate of Recognition from the I.E.E.E. Environment Health and Safety Committee and have been given the highest rating from some of the largest computer manufacturers in the world for providing on time, cost-effective and reliable products.
On Queue Computer... the technical experts for legacy systems.