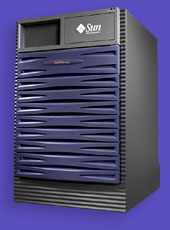 Overview
The new Sun Fire Midframe family of servers marks the next generation in the evolution of Sun's open, binary-compatible, symmetric multiprocessing (SMP) family of server products. Built around Sun's powerful, award-winning UltraSPARC III processor and the rock-solid Solaris 8 Operating Environment, the Sun Fire server family brings mainframe-class availability, superior balanced performance, and excellent flexibility to the midrange.
The Sun Fire Midframe servers are an extension of Sun's award-winning Sun Enterprise family of servers. Sun will continue to enhance and support the Sun Enterprise family for years to come, allowing you to adopt the Sun Fire servers according to your schedule.
The Sun Fire servers continue Sun's innovation found in Sun Enterprise servers. The Sun Fire family brings additional capabilities previously found only in mainframe-class systems - Dynamic System Domains*, Dynamic Reconfiguration*, full hardware redundancy, and Hot CPU Upgrades* - to midrange servers.
The Sun Fire 3800-6800 server family balances the availability and manageability features required to meet today's commercial computing needs with the performance requirements of the high-performance computing community.
*These features will be available in late 2001.
Investment Protection
Sun protects your IT investments through system architecture, financial programs, and protection of residual value. By adhering to the all SPARC[tm], all Solaris, all SMP design commitment, you can rest assured that your applications will "just run," from Sun's desktop to data center systems and across product generations, as well. The Solaris 8 Application Guarantee further strengthens this commitment. A consistent design helps you leverage the "people costs" in your IT environment, including system administration, application development, and training -- the highest costs on any IT manager's balance sheet.
-Sun's financial instruments, including Capacity on Demand, where available, and Technology Refresh Leasing through Sun Microsystems Finance, are two programs that give you quick access to the latest technology while helping defray your initial capital outlay. The Sun Upgrade Allowance Program Plus (Sun UAP+) program offers trade-in value for equipment -- from Sun or another vendor -- that has served its useful life. Sun UAP+ is now enhanced to offer additional trade-in value for newer equipment, ensuring that purchases designed for short-term life in your data center deliver excellent return on investment.
-Sun further protects your technology investment through a commitment to continuing to enhance, ship, and support Sun Enterprise 3500-6500 systems even after the introduction of the Sun Fire 3800-6800 systems. A unique benefit of the Sun Fire 3800-6800 family is that you can add newer, faster CPUs at the rated speed alongside existing CPUs, further protecting your initial investment.
Compatibility
The Sun Fire 3800-6800 servers are based on the Solaris 8 4/01 Operating Environment with support for over 12,000 applications. Compatibility with the Solaris Operating Environment brings with it the ability to run any existing Solaris application developed for the SPARC 32- or 64-bit architecture. The application programming interfaces (APIs) and application binary interface (ABI) are consistent between the Solaris 8 Operating Environment and previous versions of Solaris software.
The Solaris Application Guarantee provides additional assurance that migrations from previous versions of Solaris and/or earlier versions of the SPARC architecture are worry free.
The following Sun StorEdge products are compatible with the Sun Fire 3800-6800 servers:
StorEdge UniPack for F4800 Deskside
StorEdge MultiPack for F4800 Deskside
StorEdge D240 Media Tray
StorEdge D1000
StorEdge A1000
StorEdge A5200
StorEdge A3500
StorEdge T3
In addition, the Sun Fire servers support a full range of PCI and cPCI I/O adapters.
Key Features and Benefits
System Architecture
The Sun Fire 3800-6800 is a family of large-scale, shared memory, SMP systems based on the UltraSPARC III processor. Sun's commitment to this SPARC/Solaris/SMP architecture across the product line and from generation to generation protects your investments in applications and labor.
The architecture of the Sun Fire 3800 to 6800 server family is built around the redundantly configurable Sun Fireplane Interconnect. With a system clock of 150 MHz, the Sun Fire 6800 server has a sustained data bandwidth of 9.6 GB/sec and an aggregate bandwidth of 67.2 GB/sec. There are no slot tradeoffs in the Sun Fire servers, so a system can be configured with maximum CPU and maximum I/O.
You can expand the availability of I/O connectivity through industry-standard, high-performance PCI and cPCI I/O cards. In addition, cPCI offers hot swap capabilities.

Full Hardware Redundancy
Sun Fire servers provide full hardware redundancy. Should any key component fail -- whether it is a system controller, power supply, cooling unit, interconnect or system clock -- the system is able to recover, and in many cases continue to run uninterrupted. Full hardware redundancy includes the following components:
Redundant CPUs
Memory
CPU/memory boards
I/O assemblies
I/O adapters (if configured)
Redundant system controllers
Redundant system clock with automatic failover
Redundant Sun Fireplane switches
Redundant AC power sources, facilitated by the Redundant Transfer Switch
Redundant power supplies and intelligent power switching mechanism that will failover to remaining power modules
Dual power grid option on Sun Fire 6800 system
Fault-isolated Dynamic System Domains
Dynamic System Domains allow you to run multiple mission-critical applications on a single server. Each domain is fully isolated from hardware or software faults that may occur in another domain. In addition, system resources may be moved dynamically from one domain to another to support fluctuations in business workloads. Hot swapping resources in and out of a domain through Dynamic Reconfiguration increases manageability and availability.

Hot Pluggable Components, Hot Swappable Components, and Dynamic
Reconfiguration
Hot Plug means you can add or remove components without powering down the system. Hot Swap allows newly inserted components to be added to the running system, without reboot. Dynamic Reconfiguration can enable changes to the system's hardware resources while the system is running, reducing system downtime for upgrades, repairs, and changes in resource allocation.

Mixed-speed CPU support
Mixed-speed CPU support* helps enable you to add additional, faster CPUs into the system without having to upgrade the existing processors. All CPUs run at their rated speeds, delivering the full benefit each processor's power.
*These features will be available in late 2001.
Hot CPU Upgrades
With Hot CPU Upgrades, you can upgrade CPUs online while the Solaris Operating Environment and applications continue to be available. It is supported by the combination of mixed-speed CPUs and Dynamic Reconfiguration.
Solaris 8 Operating Environment
The Solaris Operating Environment offers industry leading availability and scalability with support for over 12,000 applications.
With Live Upgrades you can build a new version of the Solaris Operating Environment software while the old version is running. A simple reboot brings up the new environment. Should a problem occur, you can easily revert to the old version of Solaris software. Hot patching allows you to apply patches to the operating environment while the Solaris Operating Environment is running.
IP Multipathing can be employed to map out a dual-path network connection with automatic network failover capability. This assures that the failure of a single I/O card will not cause a network outage.

UltraSPARC III Processor
The UltraSPARC III processor delivers increased clock frequencies, as well as additional capabilities that contribute to increased system availability, multi-processor performance, reliability, scalability, and investment protection.
Built using Sun's second-generation 64-bit design, the UltraSPARC III processor offers extensive Error Checking and Correction (ECC) and a new error isolation feature called the Uptime Bus. The processor has an on-chip memory controller that maximizes multi-processor scalability and performance. Large data caches reduce on-chip latencies to increase overall application throughput.
At the same time, this new generation of processor offers software compatibility with existing UltraSPARC processor-based systems. Tight integration with the Solaris 8 Operating Environment and Sun's system architecture further contributes to overall system performance and reliability.